An interview with Ali Keles, a Rotterdam-based art collector, the founder of Lakeside Collection.
"Creating an artwork is just half of the process; the person who is going to consume it is just as important as the artist." Austin Kleon

Ali Keles has a background in law and is the founding managing partner of Lakeside Capital Partners, a Netherlands-based, boutique financial services and investment group. Ali is founder of several cultural foundations, through which he pursues social impact locally as well as internationally.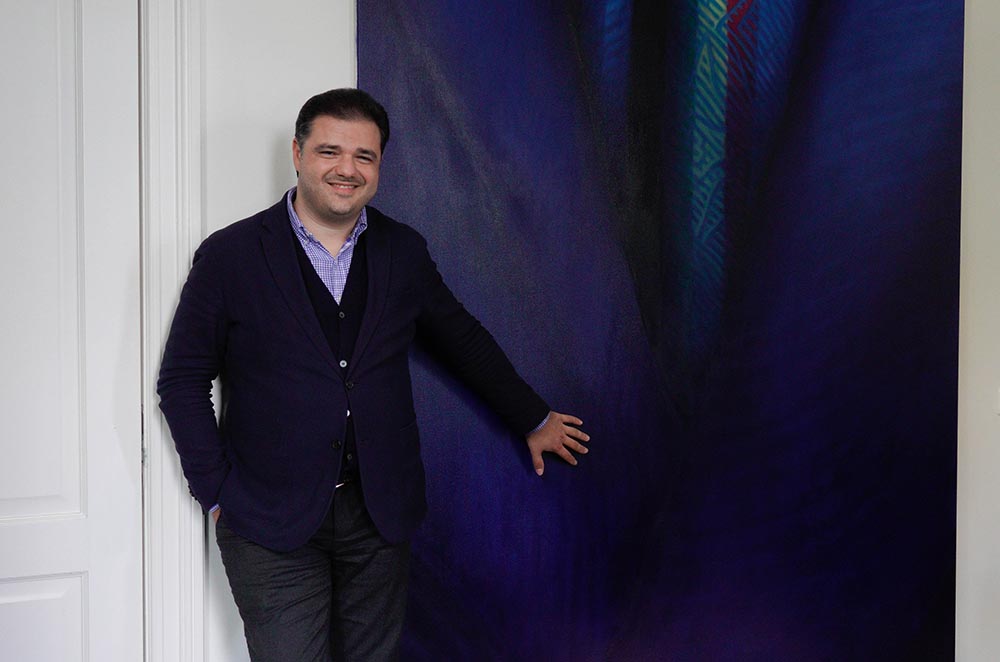 Ali Keles in front of the painting by Robin Speijer, 'Nightflower', 2019, oil on canvas. Part of the Lakeside Collection since 2019.

What does it mean to be an art collector today?

Obviously, you collect because you want to be surrounded by artworks, but at the same time, you do it because you feel responsible. Art is important for us as a society, and by collecting artworks, we conserve them. An artwork is a reflection of a period, a beautiful way to capture a moment in our lives and I feel thankful I am able to do this and have so many artworks close to me. Also, I think it's good to support artists, especially young artists. They are usually free-minded, and it's necessary to support their endeavours. They are important for society and to make sure they exist, we need to collect their work. I found a word to describe myself: "enabler". I enable companies to grow, but I also enable a collection to exist.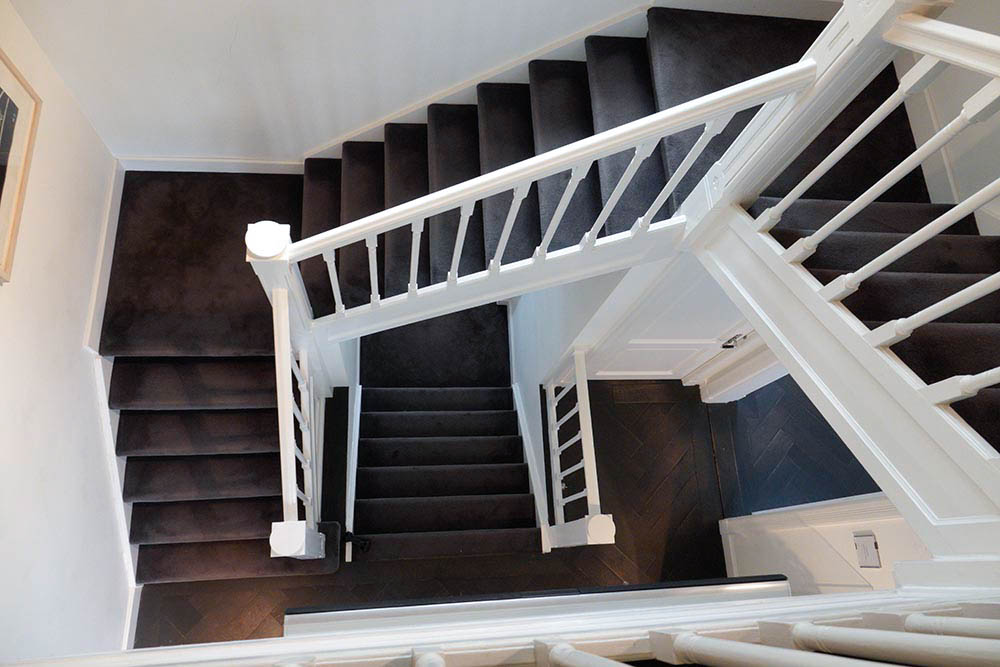 Tell us about your collection? How did you start?
I think the first time I noticed I had a sense for art was in high school. During the art history class, we often looked at slide shows, and the teacher asked the students about what period the artworks were from. My hand was constantly in the air and, to my greatest surprise, I often found the correct answer. But I didn't have other art education except for these classes and museum visits with my mother or school. Later, when I was in my early 20s, my former business partner, who was the chairman of PAN Amsterdam, often invited me to openings. I had no understanding yet of the impact of an art fair, but it sounded interesting, so I was glad to join. After a few years attending fairs, galleries and more museums, I slowly started to understand and develop my own taste. Obviously, when you are a student, you can't afford to buy artworks, and you mainly think art is something that belongs in museums. When I started to work and slowly be able to afford to buy, I felt the urge to have artworks close to me and be able to see them every day. The professional collection started in 2015. We have around 70 artworks, modern and contemporary art from 1946 to 2020, and they are distributed throughout the headquarters but also in the companies we invest in. The oldest piece in the collection was done by a Belgian painter, Marcel Delmotte. It's an Arcadian landscape as a resurrection after World War II and makes me aware of the suffering and rebuilding of Rotterdam.

The first years we were actually very quiet about the collection and internally orientated until we received an invitation from the
VBCN
(Netherlands Association of Corporate Art Collections) to become a member. We didn't think it was possible to become a member with as modest a collection in size as ours, but we were reassured it is more about the passion and vision than numbers. All of a sudden, we became, in a way, a modest, corporate public collection. The membership enables us also to learn from other collections, some of which have already existed for some decades.

We consume quite slowly. Sometimes it takes a few years to digest, follow the artist and understand the approach and development. For example, we acquired a few artworks from Levi van Veluw, but only after quite a long time.
What was the first piece you bought?
I am not sure… but maybe I can share one of the stories that remained a strong memory for me from my early period of collecting art. During a studio visit in Ankara, I saw a portrait of a very delicate, thin and vulnerable lady with a hat. I looked at the painting on the wall for a moment, and then I walked on in the studio. A few minutes later, I went back and looked at it again. A friend of the artist who was in the studio as well suddenly said, "Oh, that is Atatürk's wife!" and I don't know why suddenly came out of me: "I don't think she is! I think it might be his girlfriend or a very precious friend who was in love with him—maybe Fikriye." And the artist said, "Indeed, it is not his wife; it is Fikriye!"

I read a book, and I saw the movie written by—a very important person for me—Zülfü Livaneli about Atatürk's life. Atatürk was the founder of the Turkish Republic, and Fikriye was his friend. She had a very tragic life. Because she was ill, she had to leave the country, and while she was away, Atatürk married another woman whom the artist's friend thought was in the painting. The story culminated in a very tragic moment—Fikriye shot herself with the weapon given to her by Atatürk. I don't want to get deep into the story, but I was already very moved by it when I saw the painting and guessing it correctly—who was in the painting—made it a very memorable moment for me. The artist's name is Aslı Kutluay. Of course, we bought the painting and another artwork from her. I was very touched by her generosity in sending us an artwork as a gift later as well.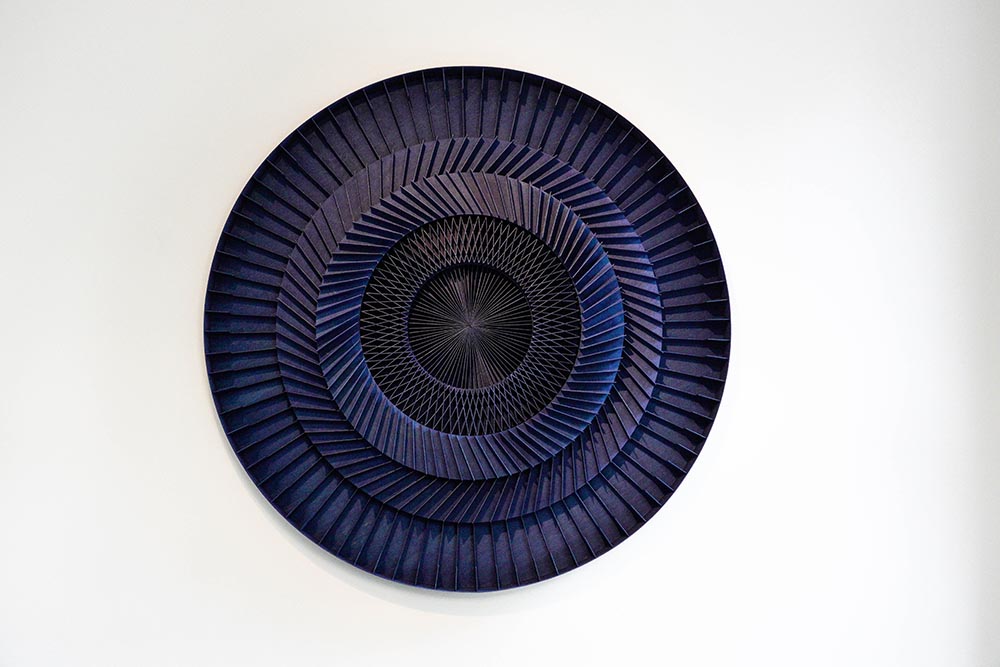 Levi van Veluw, 'Guider for Veneration', 2019, wood cobalt ink. Part of the Lakeside Collection since 2019.

What is the main motivation, what is the main reason you collect art?

It is like a love story. When you see an artwork that you like, from that moment a relationship starts between you and the artwork. And then you start to feel the urge to have it close to you. Obviously, it is visual but in my case, I tend to be attracted by the story behind. An artwork on its own can be very beautiful or interesting but the story behind keeps me hooked.

For me personally, the collection is also a way to disconnect from daily life and helps me to step away and have a break. In my business life, I tend to work a lot and in art, I found a passion that helps to go back to the abstract. Art is like oxygen. Sometimes when I walk around late at night in the office and look at the artworks, I realise they define a part of me that I might not be able to express or I couldn't express it in another way. Over the years, visiting international art fairs like Basel, Miami, Frieze London, I slowly developed my perspective on art and also developed interesting relationships with people that I share the passion with. It is intriguing.

How important is it for you to be public? Do you categorise your collection?

It is a corporate collection for us, the employees, and visitors, but I don't see it as ownership; we are conservers. I think it is important that a collection is public and artworks are visible for society now as well as in the future when we are not here anymore.

Recently, we hired for the first time a junior for the art collection. Elena Peneva is studying Arts and Culture at Erasmus University. She is active in digitising the collection, creating a digital archive of the artworks and making it available online. The collection will have its own website. Each artwork will have a description—"the story behind"—and also there will be a short paragraph about each artist. It will also be possible to make an appointment to visit the collection and see the artworks at our premises. So it is going to be a hybrid—both online and offline.

Sometimes we have a laugh. After acquiring our second glass artwork by Harry Morgan, I said, "We now have a glass department." It develops like that. As you start to have more and more artworks naturally, you start to categorise. We have paintings, sculptures, videos and currently we are developing our sculpture garden. Also, we are looking for artworks for our lake. We would like it to become a peaceful place where you are able to contemplate. We have also realised a video art space. Our future plan also includes building a modest art space in the garden to be able to do exhibitions—not as a gallery, obviously, but to show artworks and maybe an artist in residence.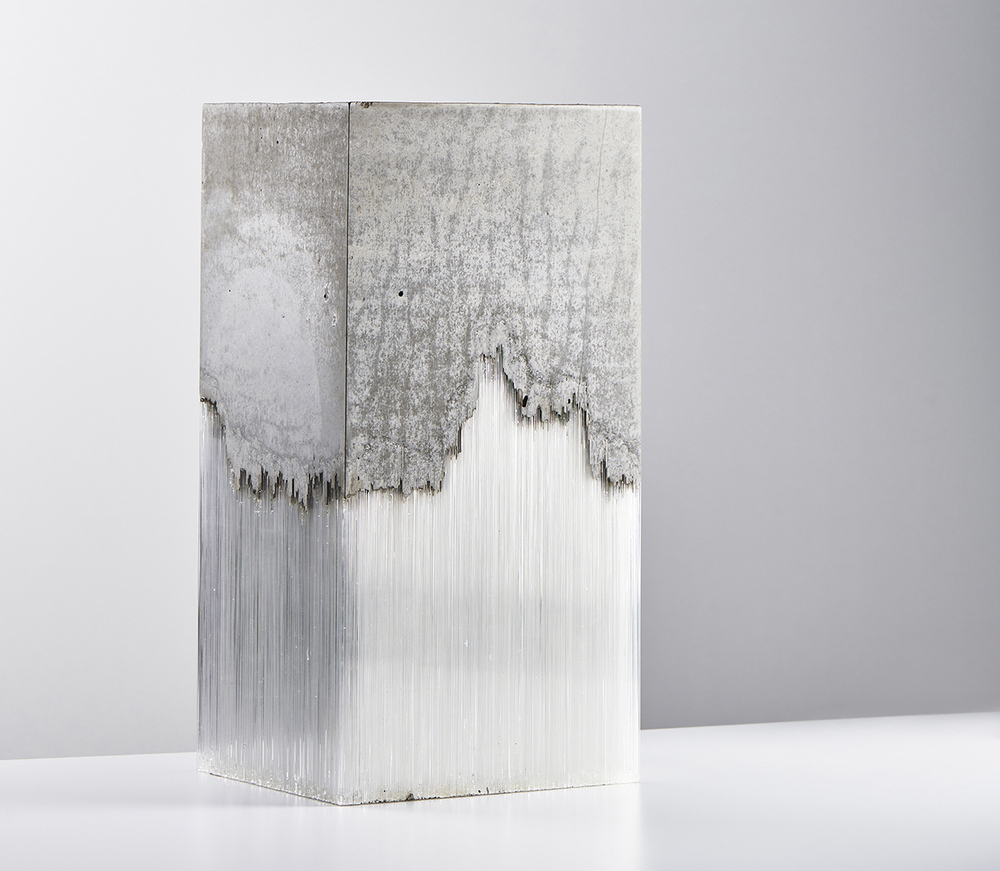 Harry Morgan, 'Untitled', 2020, glass, concrete. It has recently become part of the Lakeside Collection.

Can you highlight an artwork from your collection? What made you want to buy this work?

It would not be fair to choose one but I will try. Maybe because we are in this room, I can talk about this one here done by Alexander Kaletski. I bought it from my former business partner. Well, as I said before, the story behind it made a big impact on me. Alexander fled from Russia to the US in the 70s. During his first years, he didn't have any money to buy canvas. One day he was walking on the streets of New York and he saw these carton boxes. He was surprised by the quality and he thought he could use them to make art on cardboard. His devotion to create art struck me. This work demonstrates to me how a strong desire can become reality if you reach out with all your heart. The obstacles didn't stop the artist creating artworks and, similarly, it should not stop anyone going towards their longings in all areas of life.

He didn't sell many works the first years or so after he arrived in New York, but now he is a well-established artist represented by the Anna Zorina Gallery and before by Dillon Gallery.

A character he created called Woody became very popular. This work is named "Boy in oversized shirt"; sometimes it's just a line of drawing. It's funny and I like its ambiguity. A curator friend told me you can't build up a collection on artworks you find funny. But I think this picture is more than just that. The hand movement could mean "I will shoot myself" but can also be "I will kill you" or "I am thinking". It's brilliant! I chose this one because we are in this room but there are a lot of other artworks that impress me, for example "Vessel I" by Tomáš Libertíny. He made a metal frame of a vessel and motivated around forty thousand bees to create a sculpture totally by themselves. Nature and human come together to create an object. How could you resist something like this? You cannot just pass by. It has a presence. Sometimes the ways artists look at life teach us a lot and occasionally it goes beyond our imagination. I could talk a lot about all the artworks, but let's leave it here.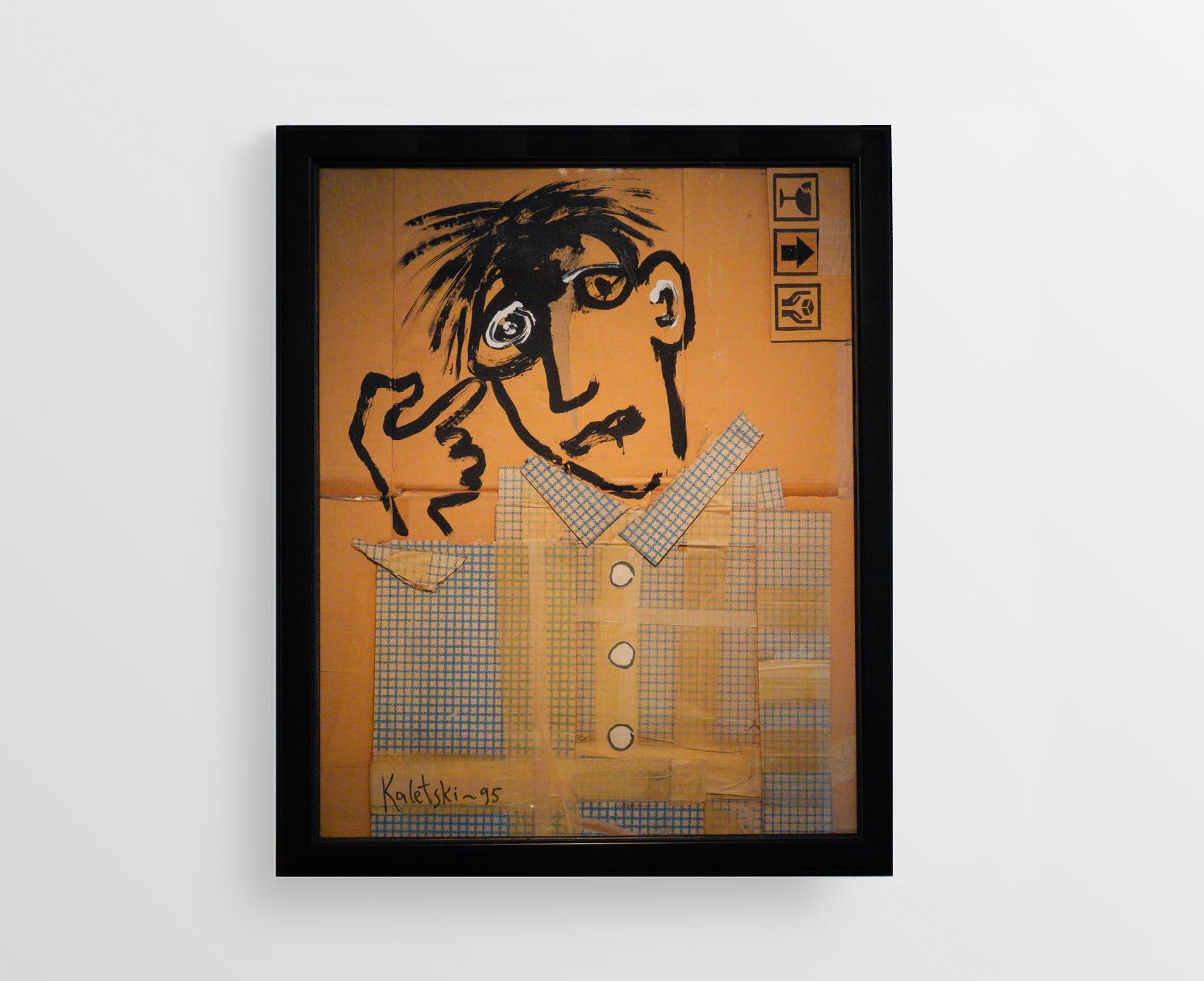 Alexander Kaletski 'Boy in oversized shirt', 1995, gouache on cardboard. Lakeside Collection.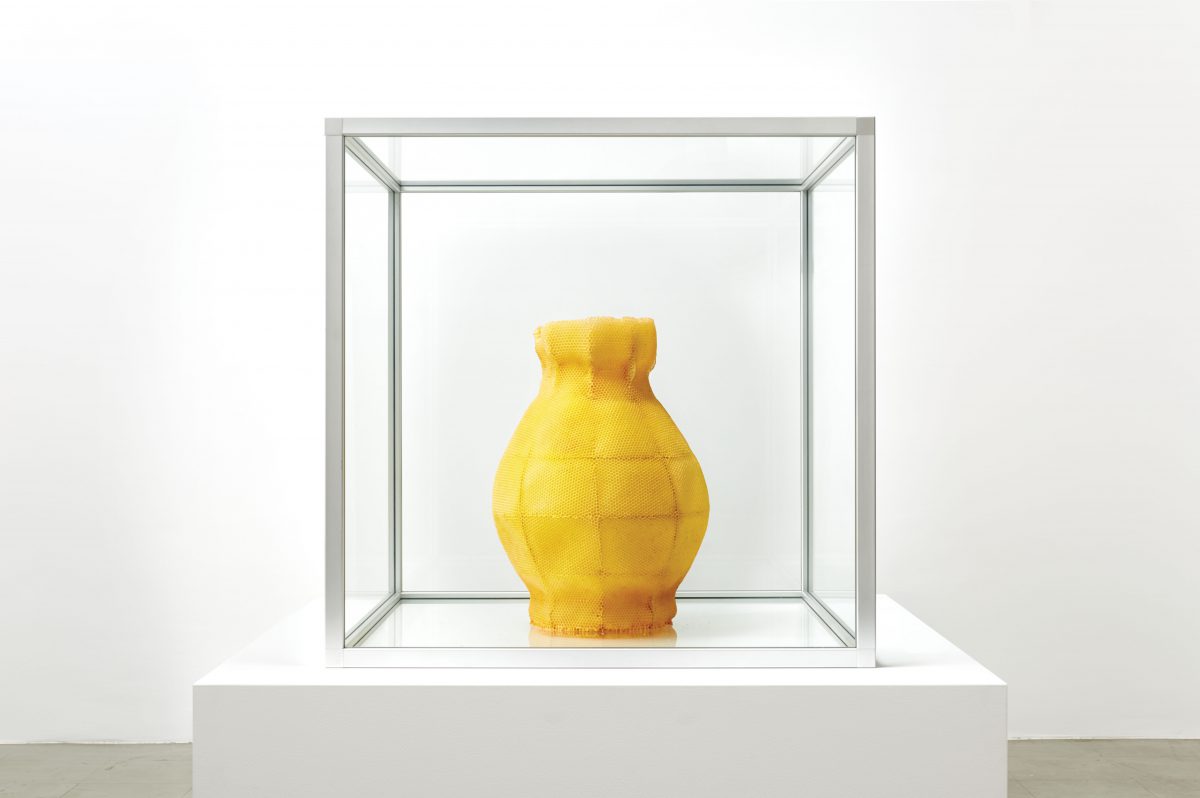 Tomáš Libertíny, 'Vessel I' 2011. Lakeside Collection.

Who inspires you in the art world? Who influenced you as a collector?
I would say the Caldic Collection, which later became the
Museum Voorlinden
.
I was totally impressed by an exhibition called "I promise to love you" curated from the Caldic Collection in Kunsthal in 2011. The founder is a good example of a businessman who built up an enormous and amazing quality art collection. I believe Voorlinden was probably inspired by the
Beyeler Foundation
near Basel because it has a similar set up. The founder of the Beyeler Foundation was an extraordinary gallerist who was also the co-founder of Art Basel. These are the people who inspire the world and also me. But artists also do, and having a relationship with artists creates the wish to collect art. I could list many more but in the end you need to choose your own path and style and develop a certain taste.
Do you follow artists?
Definitely. When I see something that strikes me, I start to follow the artist. As I mentioned to you earlier, we followed Levi for many years before we started to buy his works. At the same time, I also follow young artists from academies. Ron Mandos puts together an exhibition called "Best of Graduates" every year and we acquired a work last year. Robin Speijer is the artist, a young girl in her mid-20s making huge paintings inspired by investigating structures of textiles. I liked the painting already in the preview and when I went to the gallery to see it for real, it impressed me. Since then we have been following her. She was recently part of an exhibition "Realisme Nu" at the
Stedelijk Museum Schiedam
, and just a few weeks ago she had the honour to receive the "Sacha Tanja Penning" 2020 award for figurative art. She is the youngest award winner ever in this specific area. It's nice to see her development.
If money wasn't an object, what would be the first thing you would add to your collection?
We are actually looking but we don't know yet if we will be able to acquire it, but I would definitely like to have a large-scale "Pumpkin" by Yayoi Kusama. It is something that I have wished for a very long time. The first time I saw the Pumpkin I think it was in the Caldic Collection in Kunsthal but also I went to Naoshima Island where she has a Yellow Pumpkin with black dots as well. I learned about her and the way she is using polka dots to get away from psychological trauma.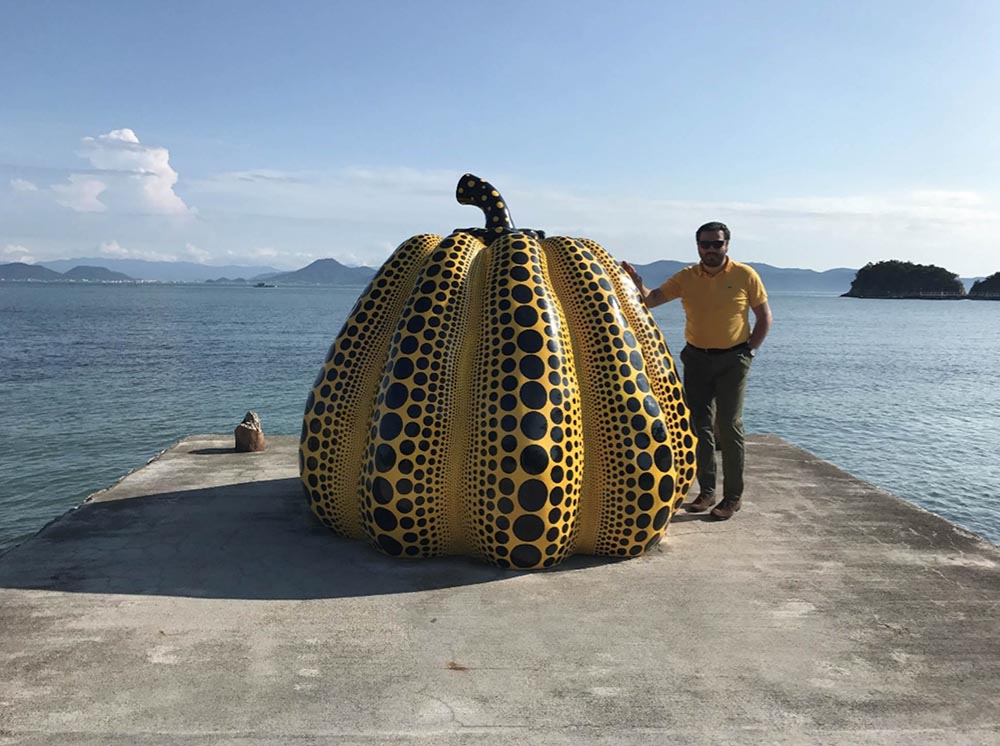 Naoshima Island, 'Yellow Pumpkin' by Yayoi Kusama.

What are your thoughts about buying artwork for investment?

I don't really approach collecting art as an investment because it starts from something totally different. We don't buy to sell. It's not a trading company; however, I am aware it is also important that an artwork keeps its value.

If you spend, let's say, 30,000 Euros on an artwork, you need to be rational and responsible to yourself that you don't buy something that doesn't keep its value. Also, I keep in mind that it will be part of the collection permanently or at least until I die, so it's a responsibility. Sometimes curators advise me and send me a whole page on the artist and their development. They try to explain why it's not a good year to buy that specific work now and I should have done it 10 years ago. On occasions, I still acquire the artwork. Intuition sometimes is stronger than rationality. Anyway, I am aware but it is not a money game for us.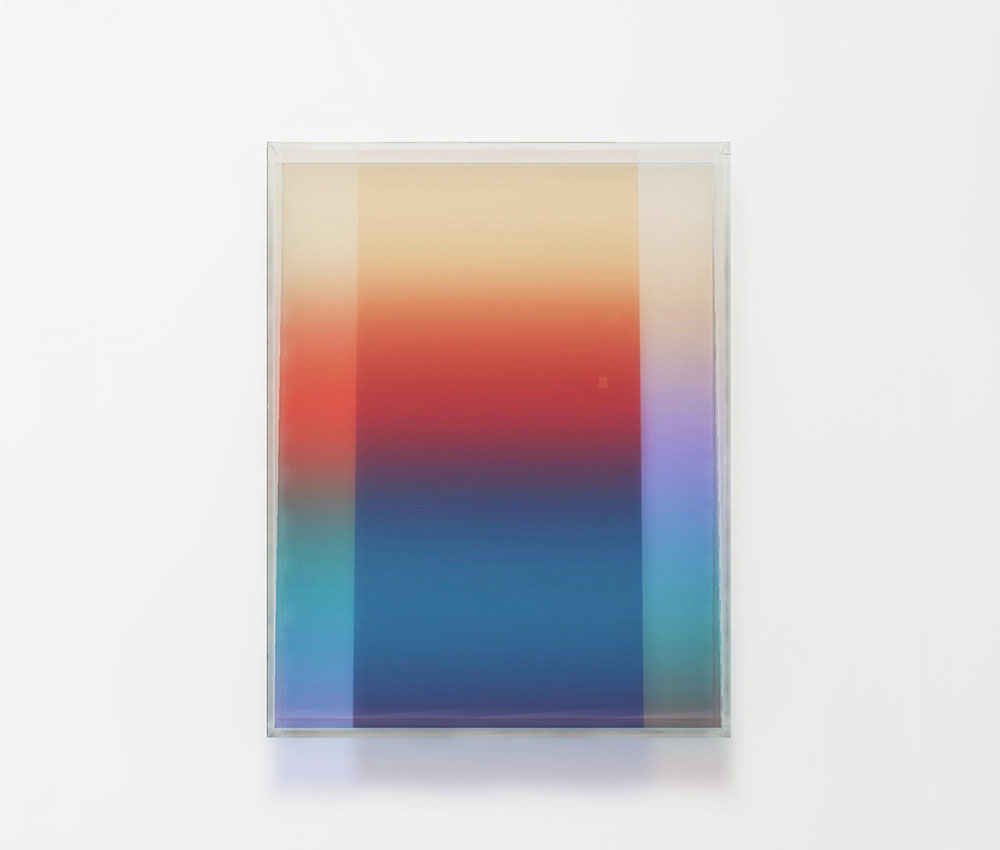 Troika's, (a collaborative contemporary art practice formed by Eva Rucki, Conny Freyer and Sebastien Noel, 'Borrowed Light', 2018, photographic film acrylic case. Lakeside Collection.

What do you think of the current state of the art market? What do you think the future of the art market is heading to?
I think there is a clear shift to digital. A lot of art fairs had to be cancelled and the galleries and museums, although they are open now, they are not back yet to the traffic they used to have, especially international. So they were kind of obliged to go digital to be able to survive. There was already a process of digitalisation but the pandemic speeded it up. And you see the shift quite quickly; some galleries have a very good viewing room with a password; you can go in and the exhibition is totally online and digital. It is interesting to see this in terms of the future. In a way, it is a contradiction because you really want to see the works physically. But I think the digitalisation process is a reality and it's growing fast.
Have you ever purchased artworks through social media?
Yes I did. Although I couldn't imagine beforehand I would do it. But there is still an urge to see it physically before making a final decision.
You were recently part of an artist-initiated project called
"Bust Chair Conversations"
by Tomáš Libertíny. Can you tell us more about your collaboration? Where did the idea come from?
It was amazing. Seeing an artwork becoming a part of a project on its own; it's the cherry on the cake. Actually, Tomáš made the Bust Chair already before and one day when I went to an opening in the gallery I saw the work and found it very interesting. Made from marble, heavy and muscular, but very comfortable. At the end of the opening, I was allowed to smoke a cigar. I think I sat there an hour without moving at all. Tomáš expressed his wish to see the Bust Chair in nature and we agreed to move the work here in the garden next to the lake. This first lockdown was a period when the city of Rotterdam was sometimes very dark and empty; we couldn't go anywhere. And this was the point when the idea started. Together with Tomáš—also with our friend and Tomáš's adviser, Annemarie van der Hoeven, and the gallerist, Pien Rademakers—we thought it was better not only to show the Bust Chair but also to create a moment around it: a time for contemplation, an opportunity for reflection about the pandemic and our future. Everyone felt the urge to talk to each other but at the same time wanted to keep a distance. Tomáš's original idea was to make a public art project with 12 chairs from different stone types in a public space. We developed this idea further and we invited 12 renowned people from the art and cultural sector who would be interesting to talk to. We slowly made the list and organised the conversations but it was difficult to find budget for it. One of the advisors said, "Why don't you just use iPhone?" But our plan was something more professional, a good-quality, long-term product, and to hire a professional crew you need a budget. Luckily we were able to find the necessary funds. Basically, Tomáš did the content—obviously he is the artist; we were only a servant for the project to be able to make it happen. I use the word "servant" because it shows that we served a goal. I thanked him many times already that I was able to be part of it and now it lives in me. The conversations will be published one by one every Monday until the end of November. We are really grateful to everyone who contributed to it and also the guests who joined the conversations. Every one of them is an interesting person, from very diverse backgrounds: artists, gallery owners, museum directors and collectors.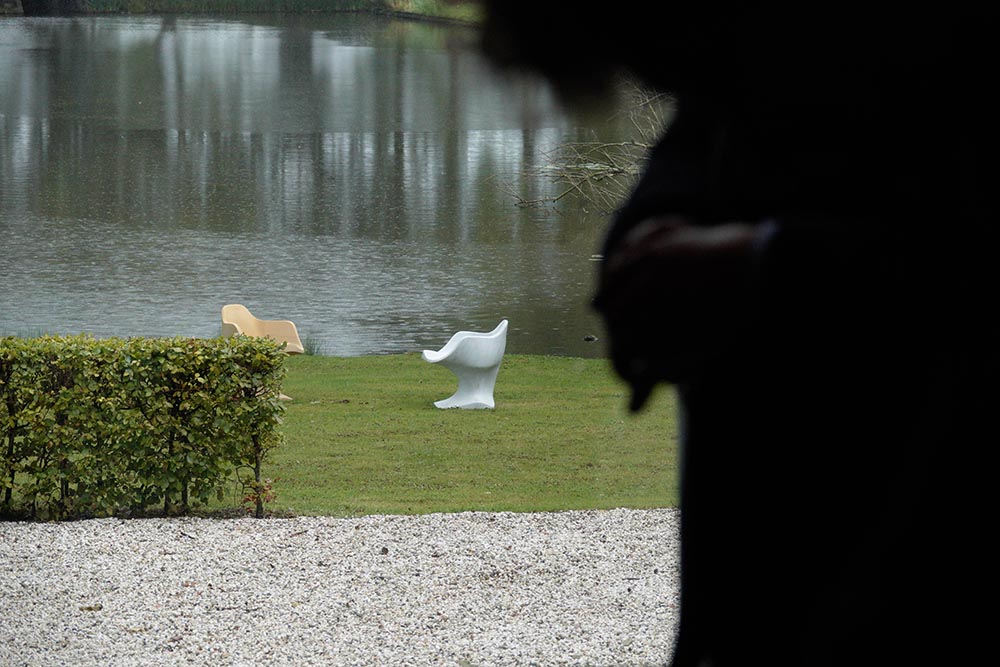 Tomáš Libertíny, 'Bust Chair', 2020.

What would you advise someone who would like to start to collect?

Go and see—it is all about experience. You need to start somewhere; only then you will slowly start to understand. Take your time. It is not a competition; there is no need to rush. Follow your heart wherever it draws you; stay close to yourself and you will find your own way. There is no good or bad. One means a lot to some and nothing to others. I would recommend visiting art fairs, museums and obviously galleries. We have in the Netherlands a nice opportunity called KunstKoop, which offers Dutch individuals the possibility to pay for the purchase of an artwork in monthly installments, without any interest. It could be very convenient for a young collector. So, I say let yourself be inspired by art, support the artist by buying an artwork for your house or office and enjoy yourself with it.

Three inspiring artists to watch.

It's difficult. It's not fair because there are lots of artists I would suggest following, but let's list some of the artists I admire: Antony Gormley, Anselm Kiefer and Anish Kapoor.

Which local museums and galleries inspire you?

I don't really find it fair to choose, but maybe Voorlinden, Boijmans, Kunsthal. But I also visit small art spaces and it's hard to define just a few galleries. There is so much to see.

Where would you like to see the Rotterdam art world growing?

I was born and raised in Rotterdam so obviously I would like to see Rotterdam become a hub, a place where, internationally, people are willing to come and see art. I think we have done very well with the new "Depot" of Boijmans Van Beuningen Museum which has already raised huge attention internationally. It was on the front page of important newspapers like the New York Times. It is an enormous job, what Sjarel Ex and his team did with the help of sponsors and the municipality. To make a museum collection visible as a whole and to be able to walk through it from below surface to the top floor—it's an impressive achievement. It's a ground-breaking approach to make a museum collection completely transparent, conserving it and at the same time showing it. Also, for us collectors there will be the possibility to rent a space and publicly show our private collection. It's really fascinating. It's a big step for the art scene here. Well done Rotterdam!

28 October, 2020

Visiting & Correspondence:
"Villa Lakeside"
Delftweg 96
3043 NA Rotterdam
T: +31(0)10 760 60 80
E: office@lakesidecapital.nl
website
Visiting hours:
Monday to Friday
10.00 - 16.00
(by appointment only)